EXTRA VIRGIN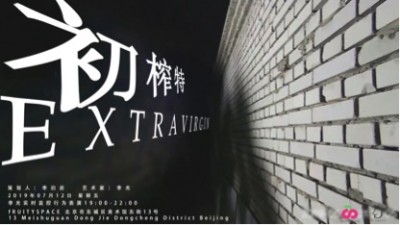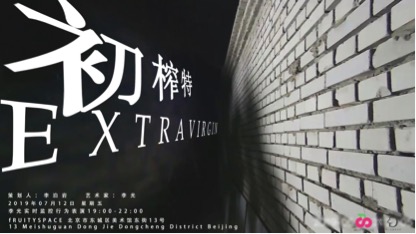 初榨特-1
EXTRA VIRGIN-1
策划人:李泊岩
艺术家:李光
CURATOR: Li Boyan
ARTIST: Li Guang
2019年07月12日 星期五 19:00-22:00
fRUITYSPACE 北京市东城区美术馆东街13号
13 Meishuguan Dong Jie Dongcheng District Beijing
黄昏即将到来,欢愉在此迟疑,夜幕低垂,清晨也不再遥远。我们在宁静中预感,黑夜就是空白。对于事物的诞生,古希腊寄托在美惠三女神身上那分裂又集合的律动上,壮丽、欢乐、宴飨,对多彩生活的渴望穿越时空,在昼夜之间往来。
"初榨特"是提纯,是纯洁的开始,是经受压榨后的第一滴油脂,是诞生,是空想,是准备凝视之前的放空。这三个字,分裂又集合,是时空背面的狂想曲,也是现实中最温柔的噪音。
文字在联想中自觉成意,图像在脑海中挥之不去,是模仿者的游戏?还是少年的情诗?都不是,是受难者的前行,是天堂里的一棵树,是闪回片段中稀薄的空气,是诞生时的哭。或许也不是。在李光的艺术项目"初榨特"中,他寻找六个章节,和十六个视角,这是神谕之夜的一次穿行,是青蛙的眼睛,是蜻蜓的翅膀。
在现场无线索观看的你,监控着另一端的一举一动,他释放出特别的讯号,是悬置的、平行的线索。你在另一端与他一样自说自话,他全然不知。
阻隔,是一种法度,在今天的现实中,沟通的可能掩盖了沟通的欲望,平行空间的大厦,永不坍塌。在此,李光并不表达一种刻意,一种结果,他要的是开始,是起点。在轰鸣的电流声中——你,才是他的谬斯;你,诞生在夜晚即将来临的另一端。开始就已经结束了。
At dusk when pleasure is held off, darkness falls and the dawn will no longer be far away. We foretell in the tranquility, that the dark night is the void. The ancient Greeks found the birth of things in the split, yet integrated rhythm of the Graces, magnificent, joyous and enjoyable. The pursuit of a colorful life has transcended time, coming and going between the darkness and daylight.
"Extra Virgin" is refinement, the beginning of purity and the first drop of oil after squeezing and pressing; it is the birth, the fantasy, the emptying before the stare. These three words, split yet integrated, form a rhapsody on the back of the space-time and sing with the tenderest voice in reality.
Words consciously interpret themselves in association; images linger in the mind and can't be wiped away. Is this an imitation game, or a love poem of early youth? Neither; it is the journey of the sufferers, a tree in heaven, the thin air in flashbacks, and the cry at birth. Or maybe it is not. In Li Guang's artistic project "Extra Virgin", he looked for six chapters and sixteen perspectives. It is a time of travel in the oracle night, the eyes of a frog, and the wings of a dragonfly.
You, as a viewer on site without leads, monitor every move on the other side. He gives out a special signal, the suspended and parallel clues. You talk to yourself on your side just like him yet he knows nothing.
Separation is a testimony. In the reality today, communication might have masked the desire to communicate. The building of parallel universes will never collapse. Here, instead of certain deliberation or results, Li Guang wants to express the start, the beginning. In the roaring glitch noise—you, are his Muse; you, are born on the other side where the night is falling. The beginning is also the ending.