Residual of Watch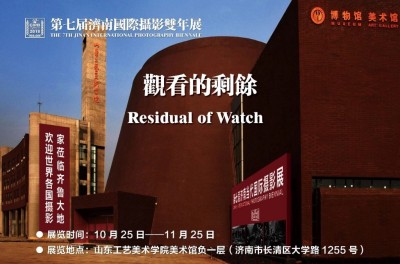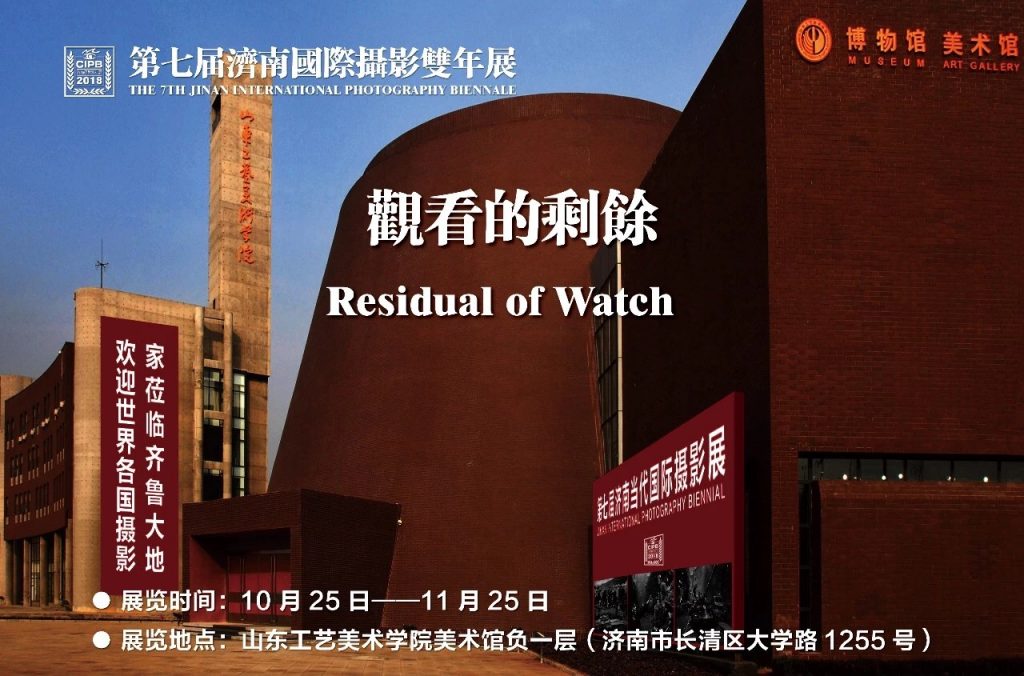 观看的剩余
第七届济南国际摄影双年展|实验展单元
Residual of Watch
The 7th Jinan International Photography Biennale
2018.10.25-11.25
山东工艺美术学院美术馆
Art Museum of Shandong Institute of Arts and Crafts
策展人:李泊岩
艺术家:陈力扬、崔博、高宇、葛雅静、劳家辉、李海光、潘卫、孙存明、王丹丹、文俊杰、杨欣嘉、耶苏、袁越、张佳星、张嗣、张业鸿、张云峰、赵玉
CURATOR:   Li Boyan
ARTISTS: Chen Liyang, Cui Bo, Gao Yu, Ge Yajing, Lao Jiahui, Li Haiguang, Pan Wei, Sun Cunming, Wang Dandan, Wen Junjie, Yang Xinjia, Ye Su, Yuan Yue, Zhang Jiaxing, Zhang Si, Zhang Yehong, Zhang Yunfeng, Zhao Yu.
观看先于猜想,现实先于虚幻。图像被捕捉时的观看即"对事件本身的观看",和"对图像的观看"是两码事。如果拍摄的意义在于定格难以把握的真实之瞬间,那么观看图像的意义就在于置身事外的洞察、猜想和阐释。正因如此,摄影的意义从拍摄者那里转而被交给了观看者。
摄影的出现,一开始就引发观看讨论,因为照片的质地相似,摄影可以被看成是一个整体的、不被主观驾驭的客观事实。瓦尔特·本雅明晚年写《机械复制时代的艺术品》,提出西方古代印刷术与近代摄影术的相通之处,也就是千百年来尊重图像模仿对西方人审美造成的影响;这为借助前代图像去衍生新的图像,找到了接近古典,又重拾框架标准化的通道。
在那些来自经典作品的重构、画面的挪用,以及对于文学色彩的想象之后,叙事和知识结构的对号入座,是观看摄影特有的权利。摄影在捕捉一个画面的时候,总会体现那个环境的气息,温度、色彩甚至心情,在图像背后引申出来一个超越该图像层面的猜想。
当我们观看图像时,我们看重的是一张照片里,是否有更多跨越时空能被我们认出的东西。在其后的模仿与复制,缔造出来的图像帝国中,拍摄的意义更是被观看的意义所取代。拍摄,变成了捕风捉影的动作,这是图像过剩的代价,也是图像价值被重新探讨的转折点。在这里,剩余的观看,改变了图像制造者的目的,使得摄影不再是被主观驾驭的客观事实。
Seeing preexists hypothesis. Reality precedes illusion. The seeing at the moment when images are captured is seeing the event itself, which is different from seeing the images. If the significance of photography lies in freezing the moment of reality which is difficult to grasp, the gravity of seeing images resides in the perceiving, assuming and interpreting as outsiders. For this reason, the significance of photography transfers to viewers from producers.
Since the birth of photography, it has prompted discussions on seeing. Because of the homogeneity of photographs' material base, photography could be regarded as holistic and objective fact, not affected by subjectivity. In The Work of Art in the Age of Mechanical Reproduction, Walter Benjamin argues that the similarity between modern photography and ancient print making in the west speaks to the influence on western aesthetic asserted by the long tradition in respecting image imitation. It creates a passage – in which the derivation of new images could be assisted by images of previous generations – to recover the framework standardization, which is close to the classical.
With the restructure of the classical, image appropriation and imagination of literature colours, it is the special right of viewing photographs to have narration and knowledge structure finding their correct place. When photography captures an image, it gives expression to the atmosphere of the environment, temperature, colour, and even emotion, and brings about hypothesis beyond the level of image.
When we are seeing an image, what we take as the important thing is whether there are something, beyond the restriction of time and space, we could recognize in the images. In the afterwards imitation and copying, the significance of photography is replaced by that of seeing in the empire of image. Photographing becomes an action to chase the wind and capture the shadows. It is the price of image excess. It is as well the turning point to readdress the value of images. Here, in the remaining seeing, it alters the purpose of image producers and makes photography no longer the objective fact controlled by subjectivity.