Portraits of Tito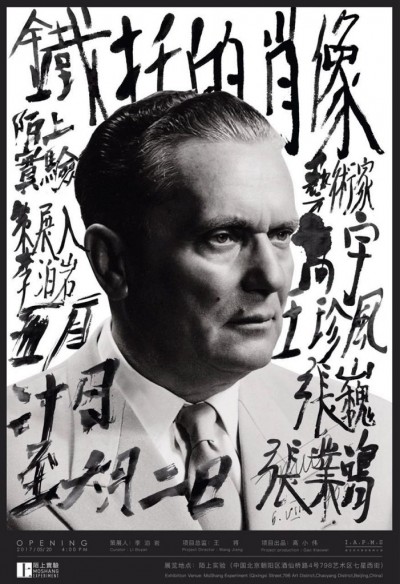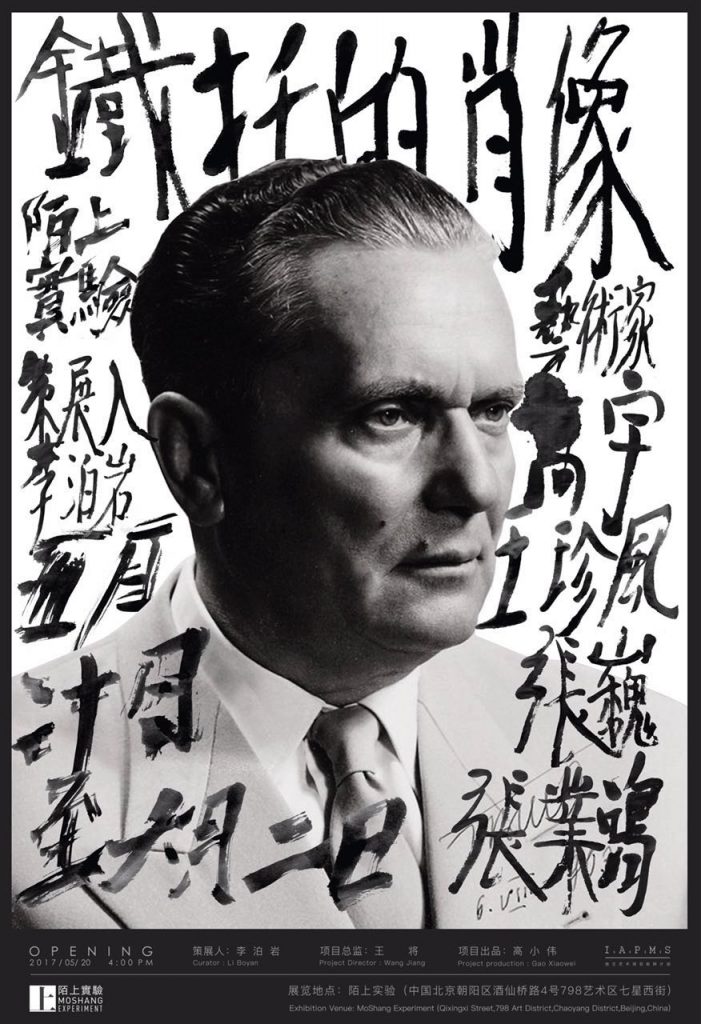 铁托的肖像
Portraits of Tito
艺术家:高宇、王珍风、张巍、张业鸿
策展人:李泊岩
开幕时间:2017年5月20日(周六)16:00
展览时间:2017年5月20­­­日——6月2日
展览地点:798艺术区 七星西街 陌上实验
Artist:Gao Yu, Wang Zhenfeng, Zhang Wei, Zhang Yehong
Curator: Li Boyan
Opening time:  May 20th, 2017 (Saturday) 16:00
Dates: May 20th – June 2nd 2017
Venue:798 Art District, Qixingxi Street, Moshang Experiment
假如说,策展的革命性突破是从专注展览的结果,改变为玩味展览的过程,策展人从一开始就不是一个诚实的人。展览的本质是一个虚无的景观,这与旅游业的景点所构建的消费景观不谋而合。很多知名景点,其实本身没什么可看的,比如柏林墙、哭墙,你若感动或者感到震撼,说明你的知识在刺激你,你的想象力在驱使你。
景观的虚无还在于某种传播上,不止一次听说,布拉格广场并没有许愿池,歌曲中的唱段也只是浪漫效果的假想而已。中国的寺院和道观倒是有很多许愿池,里面常常是铺满一角到一元的硬币。当然,也曾听说有许多寺院和道观本身就是假的,无非是骗了人去了收些祈福的香火钱。假象造就了景观的伟大。
点到为止,展览《铁托的肖像》以邀约艺术家的方式,定制了四组与铁托有关的作品进行呈现,策展人依托位于"陌上实验"地下的一处防空洞为载体,虚构了中国历史上曾出现"铁托兴趣小组"的故事,并告诉艺术家。四件作品从四个角度回应了这一编造。高宇从自己去过的"铁托大街"出发进行再一次探访,民间画家王珍风根据策展人的指示绘制了一幅铁托肖像,张巍延续自己的创作脉络制作了一件标志性的合成人像,张业鸿则凭着自己感觉为历史上的照片配以文字。这些作品分享了关于铁托的想象,这些肖像远离真实并在此相遇。
If curating is a revolutionary endeavor that turns one's focus on the exhibition's result to playing with the exhibition, then the curator is, from the very outset, not an honest person. The essence of an exhibition is but a futile spectacle—not unlike the consumerist spectacles that tourist landmarks conjure. Many famous tourist attractions are not really enticing in their own right; take the Berlin Wall or the Western Wall as an example, if you are moved or experience a sense of shock from it, it only means you are excited by your knowledge, or driven by your imagination.
The futility of spectacles is also rooted in their particular mode of dissemination: one may have heard more than once that there is no wishing well in Prague, and the lyrics of that song from the early 200s which have popularized this misconception are only the result of some romantic imagination. Meanwhile in many temples and monasteries in China, one can find plenty of wishing wells, with their floors often covered with one-RMB coins. Of course, one may have also heard that many of these temples and monasteries are mere imitations built to trick people into spending money on joss sticks and donations. The grandeur of a spectacle lies in its appearance.
In short, the exhibition Sculptures of Tito has commissioned four artists to create works related to the historical figure; taking the bomb shelter located underneath Mo Shang Experiment as host, the curator fabricated the story about a "Tito's Fan Club" that existed in Chinese history, and informed the artists about it. The four works that ensued are responses to this fabrication from four distinct points of view. Gao Yu revisited a street named after Tito, from which he drew inspirations; folk painter Wang Zhenfeng has produced a sculpture of Tito based on the curator's instructions. Marching along his creative trajectory, Zhang Wei has created a synthesized portrait in his signature style, while Zhang Yehong pairs historical photographs with texts following his intuition. Sharing the theme of Tito, these portraits encounter each other here, far removed from the real.