Fundamental Labor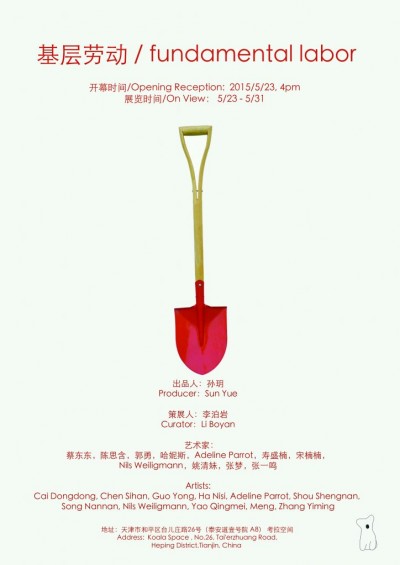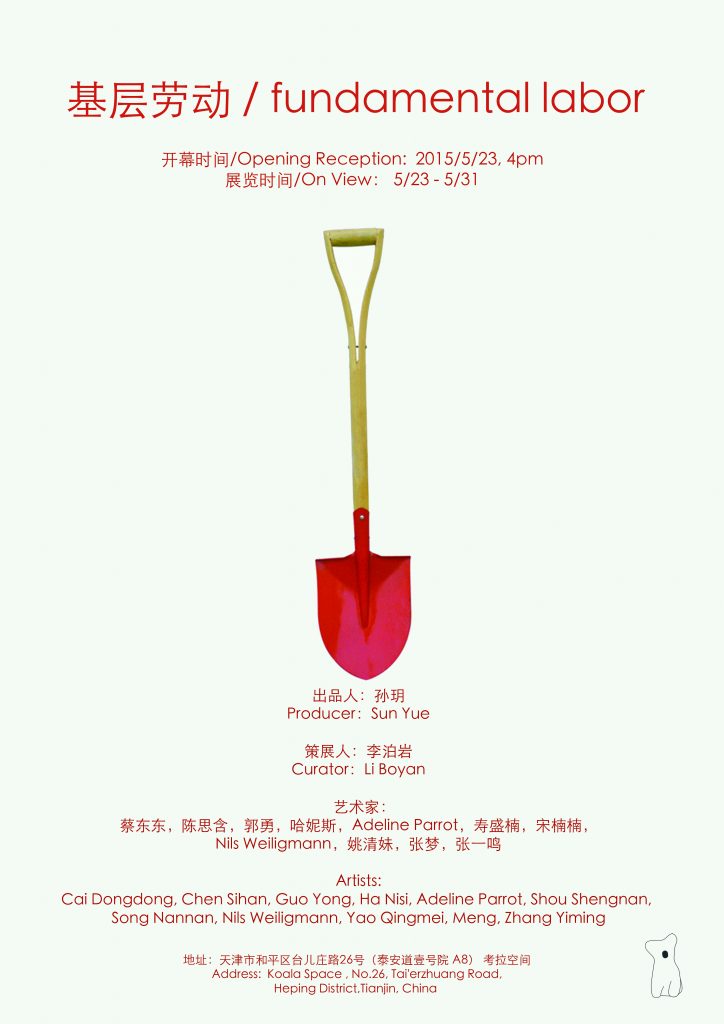 基层劳动
Fundamental Labor
出品人:孙玥
Producer:Sun Yue
策展人:李泊岩
Curator:Li Boyan
艺术家:蔡东东,陈思含,郭勇,哈妮斯,Adeline Parrot,寿盛楠,宋楠楠,Nils Weiligmann,姚清妹,张梦,张一鸣
Artists: Cai Dongdong, Chen Sihan, Guo Yong, Ha Nisi, Adeline Parrot, Shou Shengnan, Song Nannan, Nils Weiligmann, Yao Qingmei, Meng, Zhang Yiming
开幕时间/Opening Reception:  2015/5/23, 4pm
展览时间/On View: 5/23 - 5/31
地址:天津市和平区台儿庄路26号(泰安道壹号院 A8) 考拉空间
Address:  Koala Space , No.26, Tai'erzhuang Road,Heping District,Tianjin, China
工业革命前,世上的商品生产皆处于手工工场的模式中。机器时代,流水线代替人工,机械之学、重复之美便应运而生。商品的大规模制造和批量化生产随之影响到艺术的创造与审美。艺术品从现代到当代,是从唯一品变成限量品,又很快从限量变成了批量。从此,一种基础性的,消耗人工的,劳动式的审美,成为新兴艺术产业模式的重要审美倾向。然而在今天的社会中,基层劳动的重要性常常被忽视。当下社会中劳动的消耗,所换回来的价值到底是什么呢?
20世纪以来,艺术品从最初的陈列型逐渐演变为展示型。当然,不单单是艺术品,其它商品零售业也都增强了展示性,已吸引大众的购买欲。展示带来的联想,或者说是幻想,给予艺术品双重特性——时效性和参与性。我们通过杜尚的作品,看到他对于某种手艺的颠覆,也可看出对另一种手艺的注重。他依赖于展览展示的进步,使现成品成为艺术品。他视新写实主义、普普艺术、集合艺术等,为达达的余灰复燃。他使用现成品的初衷,乃是侮辱传统的美学,但是,新达达却干脆接纳现成品,并发现其中之美。杜尚把瓶架和小便池放到人们的面前做为反抗,却得到了评论界美的赞赏。虽然他的成功有种种意外,但他选择现成品时对手工的追求,无疑起到了一定作用。
时过境迁,当下艺术家并不需要以反抗为目标。但将艺术家作为劳动者的一部分看待时,其仍然保有追求自由力量的传统。齐泽克说:"剥削劳动力所得的利润逐渐转向了知识私有化所得的租金。"这比马克思的理论更为简明。马克思试图明确劳动力和社会必要劳动时间的关系时,其偏向资本家利益的意图已十分明显。同时,马克思的理论也将商品与劳动力的关系看得更为简单和固化。鲍德里亚在他的早期著作里批判马克思,指出的就是当商品化程度达到一个新高度的时候,市场中的主要商品已不再是传统意义上的产品,而变成了"视觉形象",也就是我们今天说的品牌。
品牌是对于商品自身的颠覆,也同样改变着劳动者的身份和劳动性质。无产阶级的劳动者也不再是没有别的东西可以出卖,只有自由支配的身体的纯粹劳动者。判断商品价值的依据,也不能只对人所消耗的劳动力来鉴别。因此,某种简单直接的,并不体现手艺难度和强度的艺术品,以类似品牌效应出现。比如,卢西奥·丰塔纳在红色画布上制造划痕时,以及杜尚将一把雪橇铲命名为艺术品时,他们所消耗的劳动力,显然无法和生产画布和制造雪橇产的劳动力消耗去相比。但是,艺术家名字作为类似品牌的效应,支撑起越来越多的展览。
这一观念成立的不利影响,就在于加速了艺术品的大规模生产。当然,有些在艺术品大规模生产的带动下,因为过分模仿、粗糙,加快了它的消亡,也削弱了这一观念的威信。但这种模式的出现,证明了时代的变革很难彻底舍去工业革命之前的文化和生产模式。也说明了人类本能的生产基因是永远存在的。这个大规模生产的时代往往会刺激这一基因的复苏。所有大规模生产的不利因素,也在当下逐渐显现。
Before the Industrial Revolution, crafts were still dominating in commodity production. In the Age of Machines, assembly lines replaced human beings, and also generated the knowledge of machines and the appreciation of reproduction. Massive production and manufacturing then largely started to influence the creation and the appreciation of artworks. Ancient time's artwork of originality shifted to today's artwork of limited production, then shifted to the artwork of massive production. Since then, a fundamental, basic-level and labor consuming of aesthetics emerged for the new way of artwork production. However, in contemporary society, the significance of fundamental labor is always omitted. What is the value of labors today?
In the 20th century, artworks changed from exhibitive to performative in parallel with other commodities, aiming to amuse and attract consumers. The illusion and imagination of performing gave artwork two prominent characters: timeliness and participatory. Through Duchamp's work, we can see his opposition to a kind of craft, but also his attention to another kind. He utilizes the development of exhibiting and performing to make ready-made artworks. New Realism, Pop Art and Assemblage were all his tools to resume Dada. The intention of using ready-made was to insult classical esthetics. However, Neo-Dada took it in and discovered a new esthetic from it. Duchamp used a bottle rack and a urinal to revolt but received the appreciation of beauty from art critics. Besides there predictable accidents, his success was a result of appreciating craft when selecting ready-made for sure.
The time has passed by, today's artists are no longer aiming to revolt. But if we see artists as a kind of labor, they should naturally look for freedom. Zizek says, 'The result is not the self-dissolution of capitalism, but the gradual transformation of the profit generated by the exploitation of labor into rent appropriated through the privatization of knowledge.' This is much simpler than Marx. Marx tries to define the relationship between labor and the socially necessary labor time, which clearly reveal his inclination to bourgeoises. Meanwhile, Marx's theory is not sophisticated and dynamic enough to understand the relationship between commodities and labor. Jean Baudrillard's early critique of Marx also indicates when commercialization reaches a certain level, the major commodities in the market are no longer traditional ones, but 'visual images', that is today's brand.
Branding is another revolt to commodities themselves, and it also manipulates labor's identity and characteristics. The proletariats are no longer sole labors with nothing but a human body. The value of a commodity is also no longer mere consumption of labor. Thus, a sort of simple and straightforward artworks that does not present the complexity and the intensity of craft appeared like brands. For example, When Lucio Fontana scratched the red canvas, and Duchamp named a spade an artwork, the labor they used was far less from the labor of making that canvas and that spade. However, it is the artists' names that structured the exhibitions.
A negative effect of this new mode is to accelerate massive productions of artworks. Of course, some artworks vanished more rapidly because of copying or inferior quality, and consequently weakened the prestige of this mode. But the emergence of this mode approves that development would not erase the existence of cultures before the Industrial Revolution and their relevant production modes. It also shows that human beings' gene of producing exists constantly. This age of massive production would bring this gene back to life. All the negative results would also come to visible gradually.