To the Lighthouse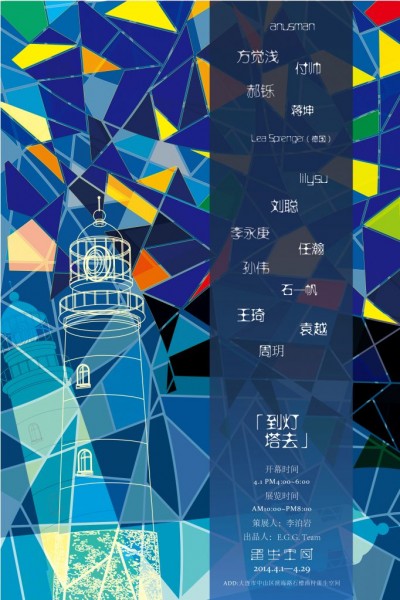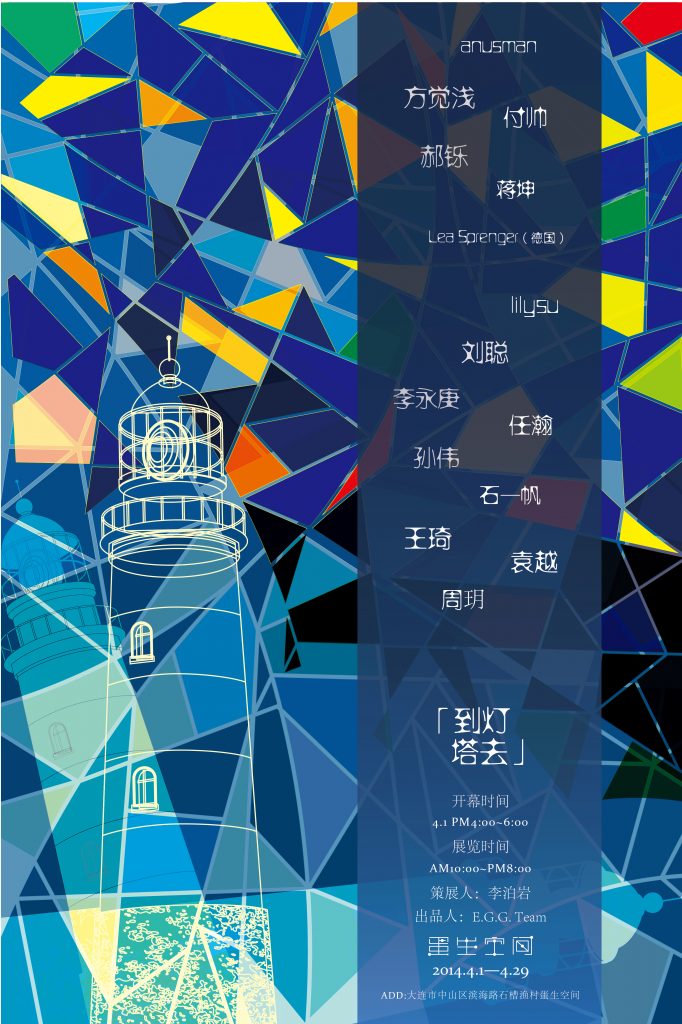 到灯塔去
To the Lighthouse
艺术家:anusman 、方觉浅、付帅、郝铄、蒋坤、Lea Sprenger、 lilysu、刘聪、李永庚、任瀚、孙伟、石一帆、王琦、袁越、周玥
策展人:李泊岩
出品人:E.G.G.Team
2014年4月1日-2014年4月29日
开幕时间:pm4
地址:大连市,中山区滨海路石槽渔村,蛋生空间
Artist: anusman, Fang Jueqian, Fu Shuai, He Shuo, Jiang Kun, Lea Sprenger, lilysu, Liu Cong, Li Yonggeng, Ren Han, Sun Wei, Shi Yifan, Wang Qi, Yuan Yue, and Zhou Yue.
Curator: Li Boyan
Sponsor: E.G.G. Team
Exhibition Time: April 1 (at 4 PM) – 29, 2014
Exhibition Location: Egg Space, Shicao Village, Binhai Rd, Zhongshan District, Dalian
"意识流"最先是美国的心理学家威廉·詹姆士提出来的,他认为人类的思维活动是一股切不开、斩不断的"流水"。他说:"意识并不是片断的连接,而是不断流动着的。用一条'河'或者一股'流水'的比喻来表达它是最自然的了。此后,我们再说起它的时候,就把它叫做思想流、意识流或者主观生活之流吧。"
在这个已经不作兴谈论意识流的时代里,象征手法、视觉转化,也被视为随着现代主义的波浪越飘越远。英国女作家弗吉尼亚·伍尔夫 (Virginia Woolf)的小说《到灯塔去》,曾是一本十分先锋的书。然而如今回首看这部作品,那简单的故事,和其深刻的人生探索,反差极大。
在当代艺术的语境里,意识流被看成是个体发现自我潜力的通道。意识流不断提醒我们有可能逃脱流逝不息的时间的魔掌,并不顾死亡的威胁而长存不朽。
我们的展览,没有正式的展览前言,策展人李泊岩,将在展览开幕当天现场写一篇意识流小说,作为代前言,以挑战(逃脱)时间的流逝与永恒。"到灯塔去"即是一句号召、一种召唤,又是一种集体的行动过程。
Stream of Consciousness was first coined by American psychologist William James. He perceives human thoughts as a continuous flow of stream that would not be cut. He says "Consciousness, then, does not appear to itself chopped up in bits … It is nothing jointed; if flows. A 'river' or a 'stream' are the metaphors by which it is most naturally described. In talking of it hereafter, let us call it the stream of thought, of consciousness, or of subjective life."
In the time when stream of consciousness is not as popular, symbolistic techniques and visual transposition has drifted away with modernism. To the Lighthouse, written by British female author Virginia Woolf, used to be a book of pioneer. If we look back at this book today, we would find that the simple story and the profound exploration of human life post great contrast.
In contemporary art context, stream of consciousness is accepted as the channel through which individuals discover their potentials. Stream of consciousness brings it to our mind that it is possible to escape the control of flowing time and achieve immortal regardless of threaten posted by death.
In this exhibition, we do not have a formal introduction. Li Boyan, the curator, would write a novel following the genre of stream of consciousness, as the introduction, to challenge (and escape from) the flowing of time and eternity. To the Lighthouse is a slogan, a calling, and a collective action.